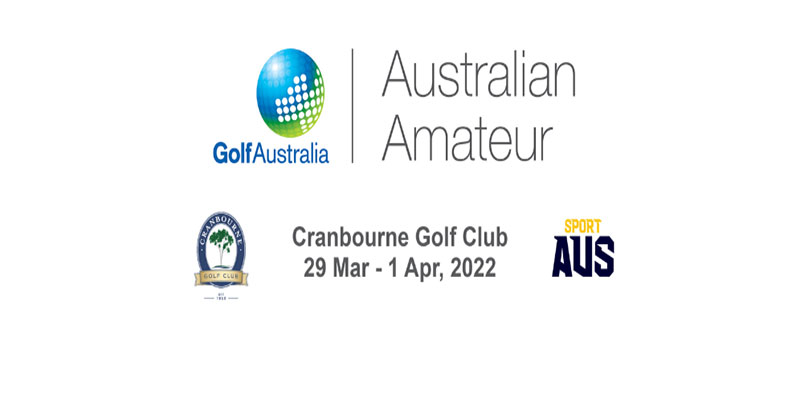 Guest News

Want some afternoon golf on one of Melbourne's finest courses?
Midweek tee times are available now. Call the Pro Shop on 5991 3400 to book!
Dress regulations apply.
---
2021 Cranbourne Open Amateur Championship
Sunday June 27th, an 18 hole Ivo Whitton & Susie Tolhurst event.
Due to the gathering limits the event was run as a 2 tee start rather than siren, and with a full field of 104 players for this year's Championship, our groups moved well around the course to ensure that everyone finished the event before dark in otherwise great conditions for golf. Our last group on each nine finished their shots around the green under torch (mobile phone) light, but we made it!
Congratulations to our winners today, as follows:
Cranbourne Amateur Champion (Gross) Men's

Winner – Ben Henkel (Metropolitan GC +2) = 68 gross
Runner Up – Jasper Stubbs (Peninsula Kingswood +2) = 72 gross

Cranbourne Amateur Champion (Gross) Women's

Ashni Solanki (Victoria GC -1) = 74 gross
Runner Up – Jesika Clark (Victoria 0) = 76 gross

Cranbourne Amateur (Net) Men's

Winner- Roi Fortinez (Sandhurst 3) = 69 nett
Runner Up – Siddarth Annangi (Spring Valley 2) = 71 nett

Cranbourne Amateur (Net) Women's

Winner- Suah Suah (Eastern GC 3) = 73 nett
Runner Up – Sayumi De Costa (Victoria 3) = 75 nett

Nearest the Pins:

3rd hole

Men's = Jye Kruyer (Settlers Run)
Women's = Louise Baliton (Mt Derrimut)

14th Hole

Men's = Bradley Hallam (Yarra Yarra)
Women's Amelia Harris (Yarra Yarra)
All winners who were not present at the end of play will receive their prizes (Cranbourne Golf Club Proshop vouchers) via email during the week.
Thank you to all of our players from around the state, we look forward to seeing you back again next year!
---
All visitors to Cranbourne Golf Club should note that from 21st December 2020, the South Gippsland Highway entrance is no longer in use.
We have put together some instructions that should assist you in navigating your way to the new entrance.  In each set of instructions you will see a link to Google Maps with pre-loaded directions, as well as an image of the directions adjacent to each set of instructions. 
What's Next?
With the opening of our new entrance, the City of Casey have now taken ownership of the strip of land that our now redundant driveway sits on. The first few hundred metres of this land from South Gippsland highway is required for the new road to widen and turning lanes to be constructed, with a traffic lighted intersection where our current gates are the end result. Once all of this is completed, Club access will be available from both the West and the East, off Glasscocks Road via our new entrance.
The Club is currently constructing a newly laid driveway into the Club, and looking at options for the new entrance and gate area, so the fencing and gates in place at the moment are only a temporary solution for this area.
As always, we are here to help, so if you need further clarification on the direction that you travel from, please let us know.
Pro Shop – 03 5991 3456
Administration – 03 5991 3400
---
2021 Cranbourne Junior Open
Held on Friday 16th April 2021
Incorporating the Victorian State U12 qualifying event
Congratulations to all of our Winners – Click here for full results
---
Cranbourne Senior Amateur
A great field of 100 players contested the Cranbourne Senior Amateur this week.  Congratulations to Heather Harley (Kooringal Golf Club) and Gordon Claney (Kingston Heath Golf Club) on their victories after a tough 36 holes.
It was great to see some Cranbourne names feature among the resluts, particularly our very own Melinda Crawford who won the women's stableford event.
Harley posted scratch stableford scores of 26 and 24 to win by one from Helen Pascoe (Buninyong Golf Club). Claney produced a brilliant even par 72 on day two to go with his 77 from the first round, resulting in a four-shot victory over Kim Johnson (The National Golf Club).
Melinda Crawford (Cranbourne Golf Club) finished with 68 stableford points to win the women's stableford event whilst Robert Stead (Lakeside Golf Club) had rounds of 67 and 78 net to win the men's overall net competition.
---
Your Team. Your Journey.
Your journey to ultimate glory in Australia's biggest team golf event begins today.  Get your team of four together and enter now.  Cranbourne is hosting a qualifying event on January 25th.  CLICK HERE TO BOOK ONLINE. Please note that this event is managed by a third party, so if you require assistance with entry PLEASE CLICK HERE
Date:  Monday, January 25, 2021
Tee Time:  1:00PM Shotgun Start
Entry Fee: Members: $40.00 pp; Visitors: $50.00 pp
Inclusions:
6 x Callaway golf balls per person
A chance to share in over $1,700 of prizes
Exclusive partner offers
Registrations Close:  Sunday, January 24, 2021 at 10:00 AM
Handicap limits for both individuals and teams apply.  Please ensure you have read the Volkswagen Scramble Terms of Competition prior to competing in this event.
---
CONDITIONS: All players must hold an official GA Handicap to compete in the Volkswagen Scramble. Any player with a GA Handicap that has been set to Provisional will be ineligible to enter.  All handicap limits are based on the official GA Handicap on the day of the event.  Maximum GA Handicap The maximum GA Handicap for Men and Women is 54.0 Maximum Daily Handicap: The maxiumum Daily Handicap is Men: 36 Women: 45;
Any player who has a Daily Handicap above these limits will automatically adjsuted to 36 (men) or 45 (women). Daily Handicaps are determined by the tees of the day.  In Mixed Events males will be calculated from the Men's tees and females from the Ladies tees.
Team Handicap Requirements A maximum of two (2) players with a GA Handicap of 9.9 or less per team; Maximum GA Handicap Team Aggregate: 112.0 (Mixed Events) 132.0 (Women's only events)
---
Congratulations – Brian Lasky OAM
We couldn't be prouder as a Club than we were to hear that Honorary Life Member Brian Lasky has received an Order of Australia Medal in the 2020 Queen's Birthday awards.
What Brian Lasky has contributed to golf can't be captured on paper, but here's a start:
Cranbourne Golf Club
Honorary Life Member, 2001.
Club Captain, 1992-2001.
Vice-Captain of Club, 1985-1992.
Assistant Treasurer, 1974-1975.
Member, Greens Sub-Committee – current.
Committee Member, 2001-2003.
Member, since 1965.
Cranbourne Country Club
President, since 2013.
Vice-President, 2008-2013.
Committee Member, since 1991.
Golf Australia
Member, Championships Committee, 2008-2010.
Golf Victoria (formerly Victorian Golf Association)
Vice-President, 2009-2010.
Board Member, 2010-2017.
Council Member, (Victorian Golf Association), 2001-2010.
National Rules of Golf Referee, since 1993.
Manager, Men's, Colts and Junior teams, since 2001.
Convenor, Rules of Golf Education Seminars, since 2001.
Chair, Match Committee, 12 years.
Chair, Selection Committee, 4 years.
Chair, Junior Committee, 2 years.
Chair, Turf Research Advisory Board, 2 years.
Awards and recognition include:
Award recognition, 25 years of service undertaking rules duties at a range of Australian and Victorian Championships including the Men's and Women's Australian Opens and the Men's and Women's Victorian Open, Golf Victoria.
Congratulations Brian on this truly deserved recognition of your tireless hard work – and thank you. 
---
21st May 2020 – Statement from the Club on vandalism to 4th green:
'Many of you would have seen articles and clips in today's media about vandalism found on our 4th green yesterday morning.
Our Course Staff arrived before first light to prepare the course for play and found that offensive images had been spray painted onto the green. These consisted of foul language, phallic drawings and of most concern, swastikas.
Everyone at the Club has great pride in the foundation of Cranbourne Golf Club in the early 1950's by a group from the Jewish Community, as a not-for-profit Club where 'everyone is welcome' regardless of race, religion, faith or gender. The only prerequisite is that our Members be of good character.
It is for this reason more than any other that we find this vandalism abhorrent in it's nature and unacceptable in any forum, at any time.
The Club has acted quickly, immediately removing this hole from play and utilising our short game area as a temporary 19th hole, to avoid any inconvenience for our Members who are loving their golf again after the break. Our Course Staff are painting over the graffiti with specialised turf paint, and it is expected to be back in play for the weekend.
The Club has reported the matter to police, who have increased patrols in the areas in and around the Club, and also to the Anti-Defamation Commission.'
We have had wonderful support from many, many people, and on behalf of the Club and our Members – Thank you.

---
Status of the Club during COVID-19
Update – 21st May 2020
---
Although our Members are back enjoying their golf at the Club since the resumption of play in Victoria, we are monitoring demand on time sheets and will communicate here once Guests and Visitors may return to also enjoy our Club (in a socially responsible manner).
We look forward to further opening our doors soon.
---
2020 Cranbourne Senior Amateur – Wrap
Congratulations to Gordon Claney from Kingston Heath who took out the Senior Amateur for the third time in 4 years, tying Gary Easte for the most wins in this event.
Click here to find the Golf Australia wrap and scores
---
Cancer Council
Longest Day of Golf 2019
A magnificent effort by our Members who undertook the Longest Day of Golf on Monday 16th December 2019, raising a combined $21,800 for this worthy charity!
14 Cranbourne Members played 72 holes in one day to raise funds for the Cancer Council, with the 'Crannies Grannies' again leading the way contributing $15,846 between them, trumping their total raised last year. Our other Members who helped raise money and played the 72 holes were Matthew & Geoff Cook, Zac Anthony, Alex Desa, Anand Thillaisundarum, Shane Pietersz & Denham De Silva, also raising contributing significantly to the cause.
Ladies President Elana Green was part of the 'Crannies Grannies' team and not only had enough energy to play all 72 holes, but even managed to speak on 3AW during her 3rd round as well! Click on the file below to hear the interview:
---
Birds of Cranbourne
One of the things that many of our Members & Guests enjoy about playing at Cranbourne is the abundance and variety of bird-life on course. Some years ago the below poster was created to help Members identify the types of birds that can be found around the Club.
How many have you seen? Click to enlarge.
---
2019 Cranbourne Amateur Championship
AN 'IVO WHITTON & SUSIE TOLHURST STATE RANKINGS ' EVENT
Results
In the second year of the Cranbourne Amateur Championship, a full field of 100 players enjoyed a perfect Winter's day on the course.
At the end of the day there were some sharp scores atop the leaderboard, with 11 players shooting par or better for the Championship.
Congratulations to our 2019 Champions, who certainly brought their 'A Game' today with 66 & 67 Gross respectively –  Konrad Ciupek & Kono Matsumoto. Both of our Champions are Members at Victoria Golf Club!
Other Winners for the Day were:
Women's Nett Champion – Hannah Mourant (6) = 76 Nett
Women's Nett Runner Up – Shanaiah Fernando (2) = 78 Nett
Men's Nett Champion – Adam Sutherland (5) = 68 Nett
Men's Nett Runner Up Antony Majstorovic (+1) = 69 Nett
Women's Gross Runner Up – Jeneath Wong = 73 gross
Men's Gross Runner Up – Nathan Page = 68 Gross (c/b from Antony Majstorovic)
NTP's 3rd Hole – Trinity Francis & Nathan Page
NTP's 14th Hole – Hannah Mourant & Greg Wilson (Hole-in-One!)
Please click here for the full Leaderboard for the day
Thank you to all players who enjoyed the event,
we look forward to seeing you again next year.
---
Ladies Guest Day
Thursday 9th May 2019
Thank you to all of the Members and Guests who braved the arctic conditions for our Ladies Guest Day today.
A lovely day was had by all, particularly when they got to relish the warm Function Room and Tea/Coffees after being out in the cold for their golf!
Winners for the day were:
– Runner Up Member & Guest: Judith Rogers & Karen Snow 42pts
<a href="https://www.cranbournegolf.com.au/cms/wp-content/uploads/2019/05/Ingrid-Brouze-Guest.jpeg"%3
Guest News